Faster Sign-Off On Requirements
It has always been easy to sign off on requirements for ranks, merit badges, and awards - just click on the checkbox for each requirement...unless the requirement wasn't earned on the same day you are doing this! Then you had to enter the date on each requirement to reflect when it was actually earned.
We just made this a lot easier by letting you set the default date to something other than today. On every page where you can sign off requirements, you will now see a button Set Default Date For Requirements Earned, as shown below.
The Set Default Date For Requirements Earned button will take you to a page where you can set the default date, as shown below. The system will remember this date on all of the requirements pages - for ranks, merit badges, and awards - until the next time you change it. This default value is specific to you, so other leaders can set their own default date without disturbing your work.
Generate Service Star Awards
There is a new option on the Advancement menu: Service Stars. This will take you to a page that looks like this: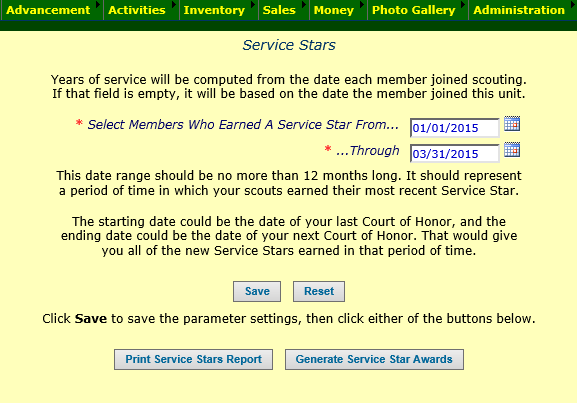 This function uses a new field on the membership record called Joined Scouting to track when each person joined his/her first scouting unit. Since service stars are based on the entire time a person has been involved with scouting, you'll need to enter this value for scouts who started out in cub scouts, and for adult leaders who had previous scouting involvement.
You'll see this field when you select a member from the Active Scouts or Active Adults page.
If you leave this field blank, the system will assume that this individual began his/her scouting experience with your unit, and will base the service stars calculation on the Date Joined Unit field instead.
You can generate a report showing everyone who earned a service star during the period you specified.
You can also have the system create the service star awards for these individuals.
Recognizing Ranks, Merit Badges, and Awards
Recognizing achievement - ranks, merit badges, and special awards that have been earned recently - is a multi-step process for many troops:
The badge is given to the scout at the next weekly meeting.
The achievement is formally recognized at a Court of Honor.
Ranks and merit badges are reported to the Council.
We recently added two fields to the rank, merit badge, and award records to allow you to better manage this process:
Court of Honor Date is when it was recognized at a Court of Honor.
Date Submitted To Council is when it was reported to your Council (does not apply to awards).
These fields, in addition to the Date Awarded, are used by the updated Pending Awards page to produce the appropriate reports at each stage of the process.
The first option on the choice list will cause the system to behave the same way it used to. It will produce all of the reports for any rank, merit badge, or award that has been earned (Date Earned is not blank) and has not been awarded (Date Awarded is still blank).
So if your troop doesn't need to track these additional dates, just use the first option and ignore the rest.
Those troops that do need to track each step in the process can use the other options on this page to select items that have not yet been recognized at a Court of Honor, or items that have not been reported to Council. Other options give you flexibility in pulling exactly the information you need.
Note that these reports are no longer available on the Advancement Reports submenu. They can only be selected from the Pending Awards page:
Pending Awards Report (formerly known as the Court of Honor Report)
Pending Awards By Patrol (same as the above, but with a separate page per patrol)
Pending Award Counts
Pending Award Labels
Council Advancement Report
Set Award Date
The Set Award Date page has been updated to allow you to set the value of these new fields for a group of ranks, merit badges, and awards.
ScoutNet™ Advancement File
The ranks and merit badges included in the ScoutNet Advancement File can now be selected using the same criteria as the Pending Awards reports.
You also now have the option to have it fill in the Date Submitted To Council on each item that is selected for the file.
Adult Achievements
The new Adult Achievements page on the Advancement menu now allows you to see participation history, leadership, and awards for adult members of your troop. You can maintain the credit for other activity from the first tab on this page.
Notice the tabs that allow you to view the leadership history and awards for the selected individual.
Print Participant List w/BSA IDs
This new option on the Troop Calendar detail page will print a participant list that includes each person's BSA ID and date of birth. This may make it easier to prepare your roster for summer camp.
If you have any questions or suggestions about TroopWebHost, please contact us at info@TroopWebHost.com.
When you do, please include your troop number and city in your message so we'll know exactly who you are.
Thank you for your support!
John Corning
TroopWebHost