Medical Form Status
The Calendar detail page will now display each person's medical form status as of the end date of the event on the list of participants for any upcoming event. If the event is scheduled to last more than 72 hours, it assumes that parts A, B, & C are required; otherwise, it only requires parts A and B. If any of the required forms has never been filed, it will show "Missing". If all required forms have been filed, but one or more are out of date, it will show "Expired". If all required forms are up to date, the column will be left blank.

Running Totals
We now display running totals next to the transaction amount on the following pages:
My Stuff → My Money → My Account
My Stuff → My Scouts → Account Detail
Money → Account Balances → Individual Accounts (detail page)
Money → Account Balances → Troop Accounts (detail page)
Money → Account Balances → Event Balances (detail page)
Here is an example from the Individual Accounts detail page: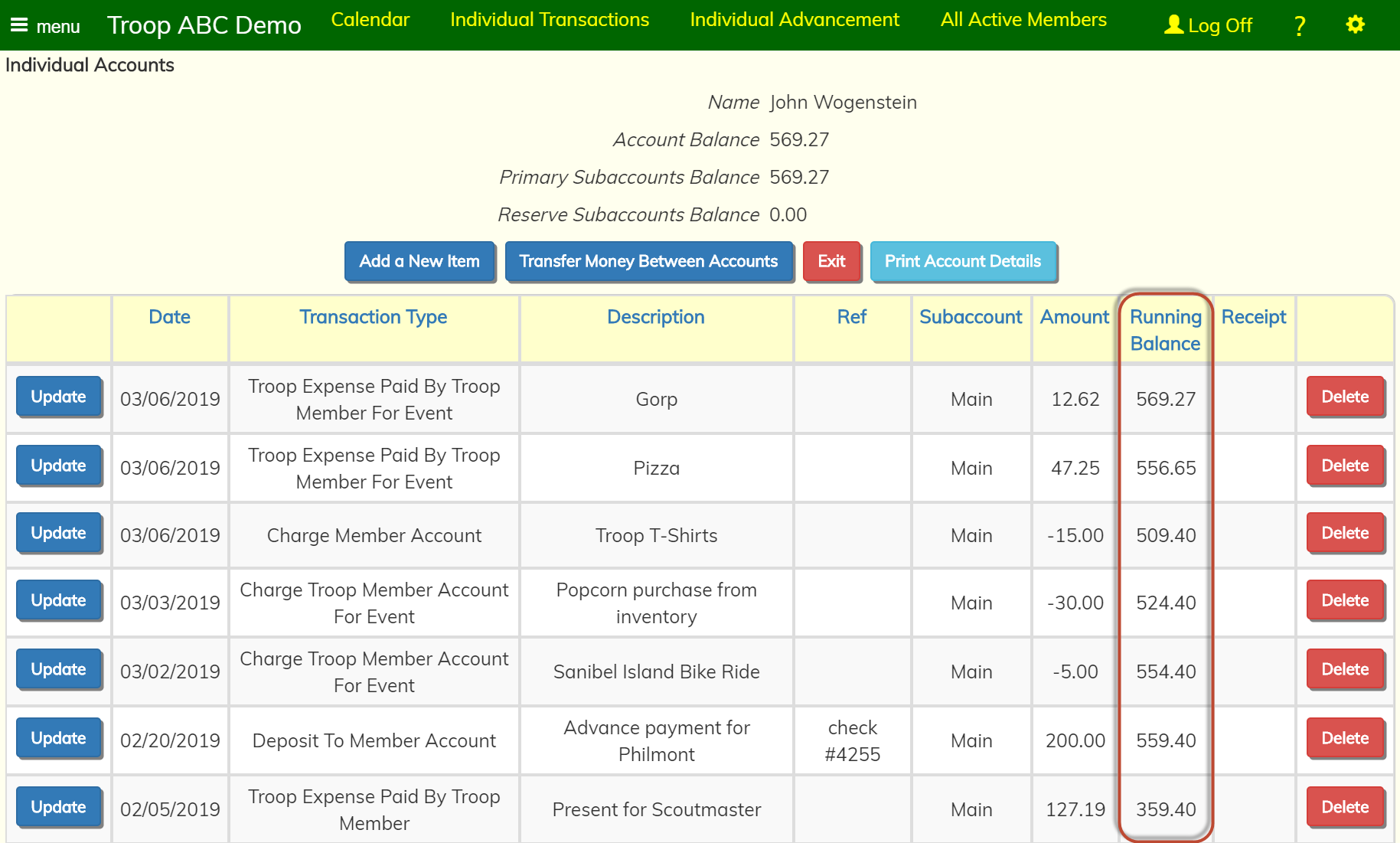 World Conservation Award
The system will now automatically award the World Conservation Award to any scout who has completed the following requirements:
Environmental Science or Sustainability merit badge
Citizenship in the World merit badge
Soil and Water Conservation or Fish and Wildlife Management merit badge
Three hours of conservation service
This happens during our nightly advancement updates. If you enter the final requirement today the award will appear tomorrow.
Inventory Report - Checked Out Items
The Inventory Report of Checked Out Items has been rearranged and reordered, making it much more useful. The report is now sorted by the person to whom the items are checked out.

Send Us Your Questions and Suggestions
Send us a ticket from the My Support Tickets page on your site's Help menu. This is absolutely the best way to communicate with us!
Or simply contact us at CustomerSupport@TroopWebHost.com. If you do, please include your troop number and city in your message so we can identify your site.
Copyright 2023, Web Host Services LLC. All rights reserved.
TroopWebHost is not affiliated with or endorsed by Boy Scouts of America.