Automated Electronic Newsletter
This month we added the ability to automatically send a personalized e-mail newsletter to each member of your troop.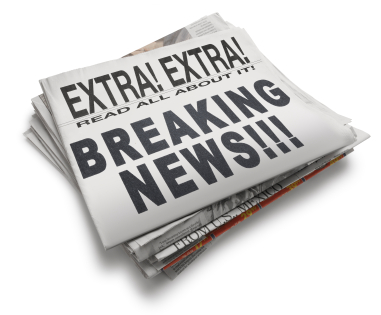 We'll tell you all about it, but first we'd like to thank our newest subscribers:
Troop 33 of West Chicago, Illinois
Troop 93 of Falmouth, Maine
Troop 99 of Naperville, Illinois
Troop 145 of Richboro, Pennsylvania
Troop 161 of Leander, Texas
Troop 518 of Dallas, Texas
Troop 522 of Jacksonville, Florida
Troop 537 of Medina, Minnesota
Troop 589 of Keller, Texas
Troop 641 of Woodstock, Georgia
Troop 686 of Evans, Georgia
Troop 707 of Texarkana, Arkansas
Troop 1020 of Rowlett, Texas
Troop 4019 of Bellingham, Washington
Please contact us at info@TroopWebHost.com with your questions and suggestions.
When you do, please mention your troop number and city in your message so we'll know exactly who you are.
Newsletters Delivered Weekly, Bi-Weekly or Every Four Weeks

The system now has the ability to automatically generate a personalized e-mail to every member of your troop every week, or every two weeks, or every four weeks.
This can be configured by your site administrator by going to Administration --> Automated Newsletter. As shown above, this will allow you to configure the newsletter for your troop.
A newsletter will not be sent unless you click on the checkbox and fill in all of the parameters. Remember to click Save to save your work.
Do A Trial Run First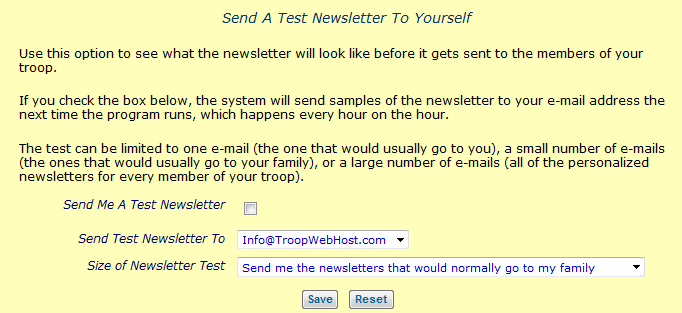 Further down that same page, you'll see an option to send yourself a test newsletter. This will allow you to preview the newsletter before it goes out to the entire troop.
The newsletter program runs once an hour. If you check this box, it will send a set of newsletters to your primary e-mail address the next time it runs. It will uncheck the box after it completes the trial run.
The last option determines the number of newsletters to be included in the test:
One newsletter personalized for you, or
One newsletter for each member of your family, or
One newsletter for each member of the troop
Personalized For Every Member Of Your Troop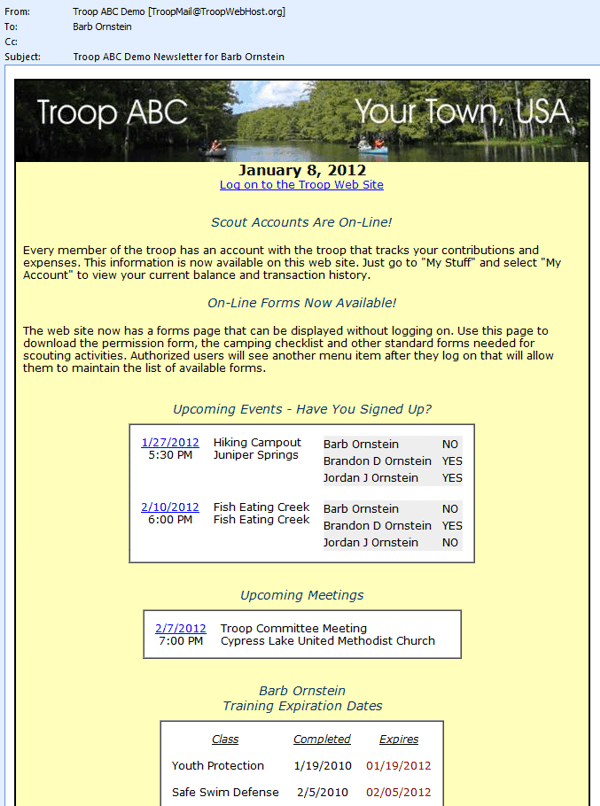 The newsletter leads off with all of your current announcements. It then shows upcoming campouts and other events; for each event indicates the members of this family that have signed up. It will also list upcoming meetings.
For adults, it will show any training that has expired or is about to expire.
It will then show any troop inventory or library materials that are currently checked out to this family.
At your option, it can also include troop account balances and rank advancement status.
You Have The Option To Opt Out

Any member of your troop who does not want to receive the newsletter may opt out by going to My Stuff --> My Contact Information and checking the checkbox below the e-mail addresses.
Thank you for your support!
John Corning
TroopWebHost