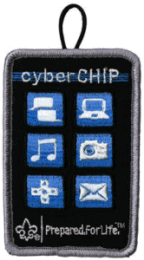 Cyber Chip for Cub Scouts
The Cyber Chip award may now be tracked on the Adventures and Badges page at all age levels.
So, for example, if you go to the Tiger tab, you'll see Tiger Cyber Chip at the bottom of the Tiger Badge and Adventures grid.
If you click on the Scouts button, you'll see all of the requirements for the Cyber Chip at that age level.
Just like any other Cub Scout adventure, badge or award, you can sign off on individual requirements for a group of scouts, sign off on multiple requirements for one scout, or simply mark the entire award complete.