Support Tickets
All adult users now have access to the TroopWebHost support system, which allows you to submit and track support tickets and review outstanding requests for enhancements.
Click the

icon in the upper right corner of the page to view the expanded Help menu, as shown here: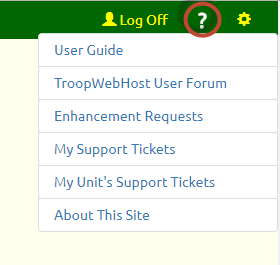 While we will still respond to your questions and requests at CustomerSupport@TroopWebHost.com, we would encourage you to use this new system for these reasons:
Guaranteed response. There is no chance of a request "falling through the cracks", which can happen with email.
Saved history. The system retains all of your previous requests and our responses, which you can refer to if you run into the same issue again.
Register support for enhancements. Your vote for an enhancement request will be counted.
Click My Support Tickets on the menu shown above to access the support system.

Tickets created most recently will appear at the top of the list.
To submit a new ticket, click Create a New Ticket. This will take you to this page: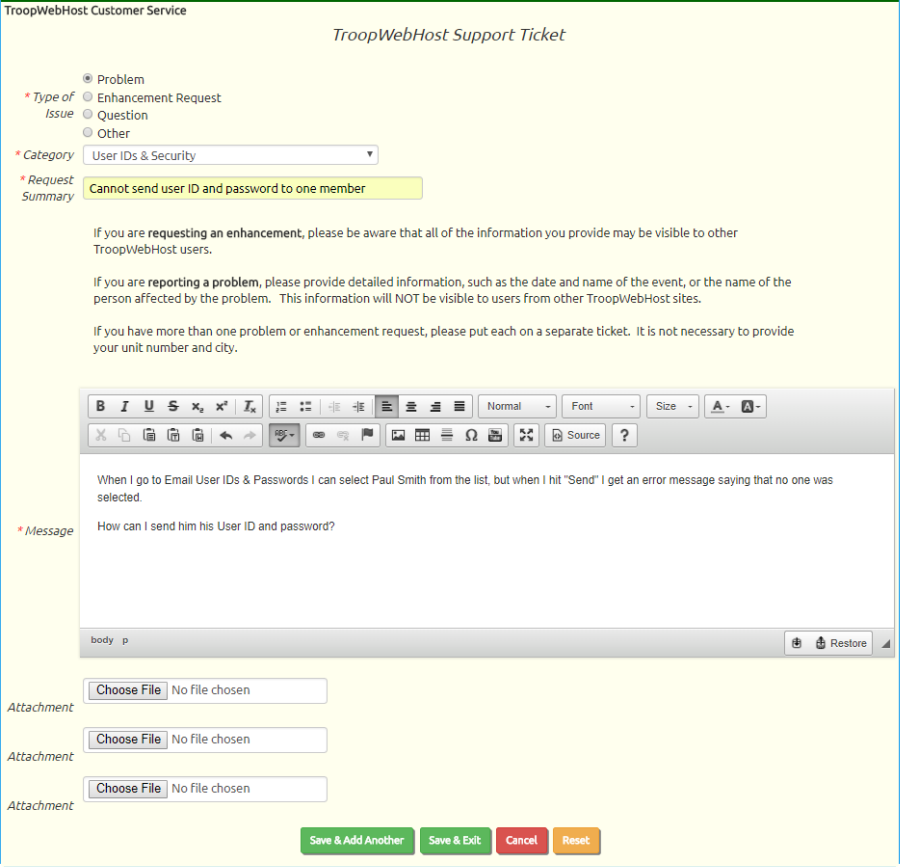 Fill in the form with as much detail as possible.
Note that you can drag and drop photos into the message body. You can also add up to three attachments.
Click Save & Exit to submit your request.
In most cases, within 24 hours you will receive a response. An email will be sent to the email addresses that were on your membership record at the time you submitted the ticket. The message will look like this:
Do not reply to this email! Instead, click on the link at the top of the message to return to your ticket. This link will only work if you are already logged on to your site.
You can also view our response by returning to My Support Tickets and updating the ticket. This page will contain the complete history of our commuications, as illustrated here: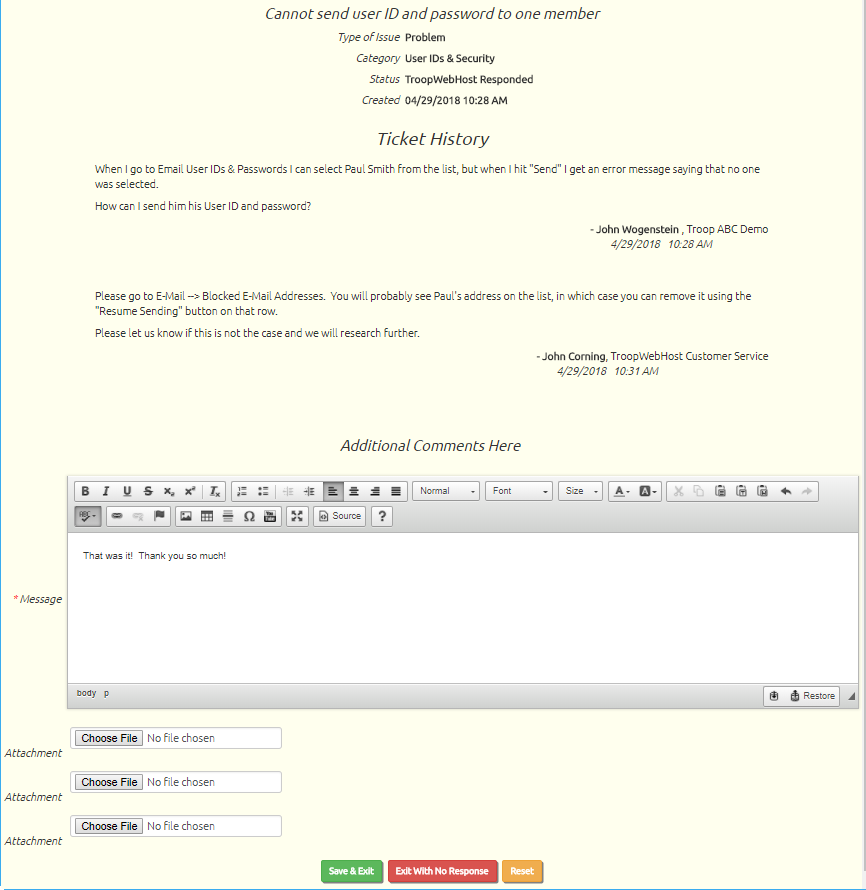 If the response satisfied your request, you do not need to do anything further. Simply click Exit With No Response.
If we requested further information, please respond in the Message box. If appropriate, attach additional documents, then click Save & Exit.
All of your tickets will remain on the list, allowing you to refer back as needed later.
The My Support Tickets page is available to any user with the Adult or Site Administrator user role. You can make it available to those with other user roles by authorizing those roles for the "TroopWebHost Support Ticket - Mine" task using Assign Tasks To Roles.
Site administrators are also authorized for My Unit's Support Tickets. This will allow them to view and update the support tickets submitted by any member of your troop or crew. You may authorize additional roles for this function with the "TroopWebHost Support Ticket - My Unit" task.