Contact Us Widget
You may now add a Contact Us form to any of your public pages, using the new Contact Us widget, as shown in our User Guide.
To set up this form, you'll first want to create one or more Dynamic Subgroups that represent the leaders who should be notified when a visitor submits the Contact Us form.
Then, go to Site Configuration → Contact Us Reasons and add one or more reasons that a visitor might have for contacting you. These should be written from the perspective of the visitor, like these examples:
My son/daughter is interested in joining your troop
I am interested in joining your troop as an adult volunteer
Please contact me regarding your current fundraiser
Each reason must be associated with a Dynamic Subgroup. When a visitor selects that reason, a message will be sent to the members of the corresponding Dynamic Subgroup.
Once these prerequisites are in place, you can add the Contact Us widget to your Home Page or any custom page, just like you would add any other widget. It will look like this: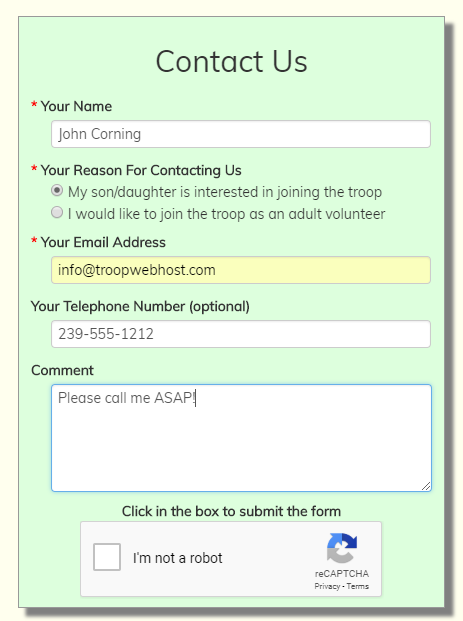 Please note that the reCaptcha box will not display until the first three fields have been entered. We use the reCaptcha box to prevent bots from spamming your site.
When the form is submitted, an email will be sent to the members of the corresponding Dynamic Subgroup. This information will also be saved to your database, where it can be viewed by going to Home → View Contacts, as shown here:

There are two new security tasks associated with this capability:
Maintain Contact Reasons will allow you to add and update the list of contact reasons.
Maintain Contacts will allow you to view the list of contacts submitted by visitors.
These tasks have already been assigned to the "Site Administrator" and "Membership" roles on your site.