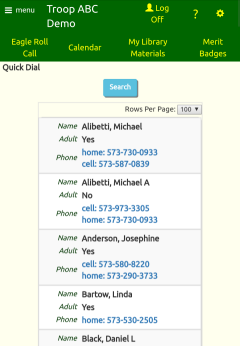 A new Quick Dial page lets you easily call any member of your group from your smartphone.
You can now keep track of the shirt sizes of each member.
The Last Affirmation Date allows you to record when each member last submitted forms required by your troop, crew or pack.
Leaders can enter notes about individual members.
Troops can record the Cub Scout Pack each scout came from.
Troop 608 of Hamden, Connecticut!

Troop 608 just began building out their site in July and it is already quite impressive. They've created nine custom pages which cover just about everything you might want to know about their troop.

Check it out - you may get some idea's for your troop's site!
Troop 608 of Hamden, Connecticut,
we salute you!


Your award ribbon is on its way to you!
We Welcome Our Latest Subscribers
California
Pack 60 of Spreckels
Troop 765 of Carmel Valley San Diego
Troop 854 of San Pedro
Troop 874 of San Ramon
Colorado
Pack 262 of Monroe
Troop 9 of Englewood
Illinois
Michigan
Missouri
Troop 1447 of Kansas City
New Jersey
Pack 54 of Phillipsburg
Troop 27 of Lawenceville
Troop 114 of West Milford
New York
North Carolina
Troop 438 of Hillsborough
Ohio
Oregon
Pennsylvania
South Carolina
Texas
Troop 8256 of Wichita Falls
Troop 233 of Leon Springs
Troop 285 of San Antonio
Troop 437 of Richardson
Troop 7015 of Sherman
Washington
Wisconsin
Fantastic Fives!
High fives to these troops who have joined the 300+ subscribers who have been with TroopWebHost for 5 years or longer:
Troop 2 Naples, Florida
Troop 10 Jefferson City, Missouri
Troop 23 Harrisburg, Pennsylvania
Troop 72 Seattle, Washington
Troop 77 Frisco, Texas
Troop 110 St Louis, Missouri
Troop 114 Grand Island, Nebraska
Troop 115 Indianapolis, Indiana
Troop 150 Madrid, Iowa
Troop 213 Cary, North Carolina
Troop 303 La Crescenta, California
Troop 339 Prior Lake, Minnesota
Troop 410 Columbus, Ohio
Troop 500 Wake Forest, North Carolina
Troop 520 Cedar Hill, Texas
Troop 544 Gresham, Oregon
Troop 692 Pensacola, Florida
Troop 853 Mesa, Arizona
Troop 972 Lake Saint Louis, Missouri
Troop 1987 Lindenhurst, Illinois
Troop 2874 Midlothian, Virginia
Questions or Suggestions?
Please contact us at CustomerSupport@TroopWebHost.com.

Please include your troop number and city in your message so we can identify your site.



Thank You For Your Support!
Copyright 2023, Web Host Services LLC. All rights reserved.
TroopWebHost is not affiliated with or endorsed by Boy Scouts of America.