Sign Up Page
You may have noticed a new page on your Activities menu: Sign Up Members. After selecting an event from the initial list, it will bring you to a page where you can update the participation status of any or all members of your troop, as shown below: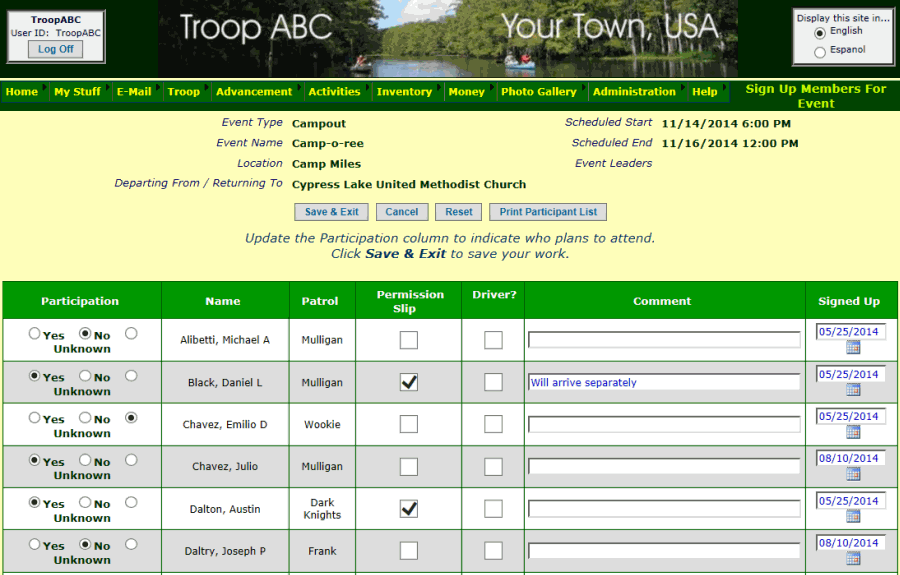 Track Permission Slips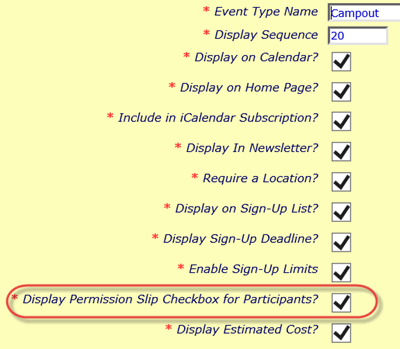 The sign up page shown above includes a new checkbox for tracking whether each participant has submitted a permission slip.
This can be added to any type of event by updating your Event Types.
Event Types now have an option Display Permission Slip Checkbox for Participants?, as shown at right.
Selecting that option will cause all events of that type to include the checkbox on the sign up page, shown above, and also on the Sign Up tab of the Add and Update Events detail page.
Limit Number Who Can Sign Up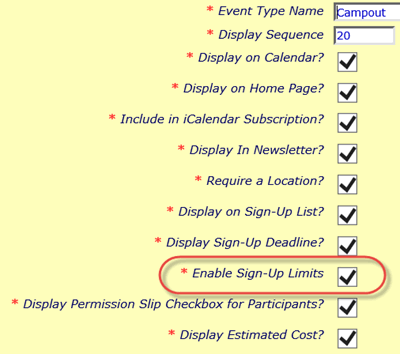 On the Event Type screen shown above, you may have noticed another new option: Enable Sign-Up Limits.
Selecting this option gives you the ability to limit the number of scouts and adults who can sign up for a given event.
You specify the limits for a given event using the Add and Update Events page, as shown below. If the limit is left blank or set to zero, no limits will be enforced.
If, as shown below, the limit for scouts is set to four, after four scouts have signed up for this event, any scout who tries to sign up for this event from the My Stuff page will not see this event on the list. If he tries to sign up from the Troop Calendar, he will not see the sign up option.
Authorized leaders can override this limit using the new Sign Up Page or the Sign-Up List tab on Add and Update Events.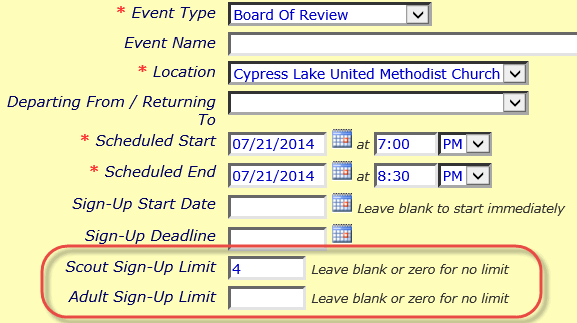 Progress To Next Rank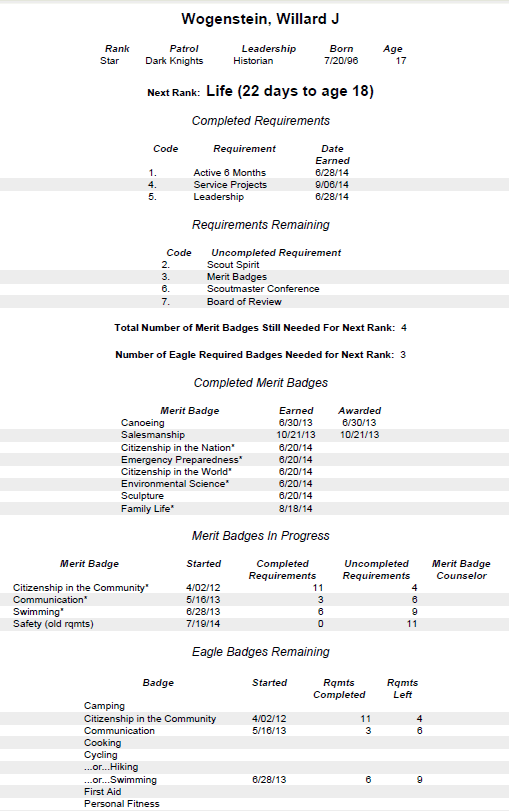 This new report is available from the Rank Summary tab of the Individual Advancement page.
It shows a complete summary of where this scout is at with regard to achieving his next rank.
It lists the requirements that have been completed and those that remain to be done.
For scouts working toward Star, Life and Eagle, it also shows how many merit badges are needed for the next rank and how mmany of those must be Eagle required badges.
It lists the merit badges completed, those in progress, and the remaining Eagle required badges.
Merit Badge History By Scout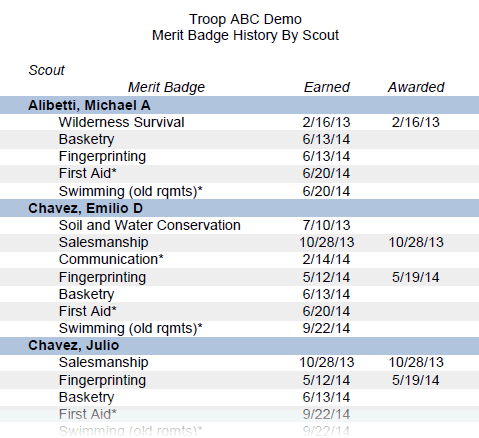 This new report shows all of the merit badges earned by each scout in chronological order.
You'll find it on the Advancement Reports submenu.
Print Non-Participants List
If you select an event from the troop calendar and scroll down to the bottom of the page, you'll find a new button: Print Non-Participant List.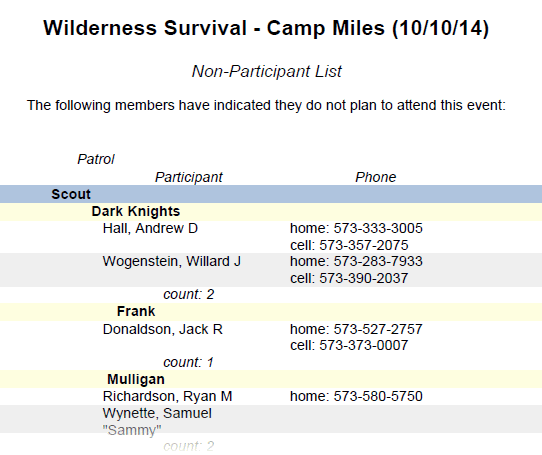 This will produce a report like the one shown at right.
It lists all of the scouts and adults who have indicated that they do not plan to attend this event.
This is also available from Add and Update Events.
Estimated Cost Per Person
Estimated Cost Per Person is now a text field, so you can enter more information about the charges for the event.
This field is available on all Event Types that have Display Estimated Cost? selected.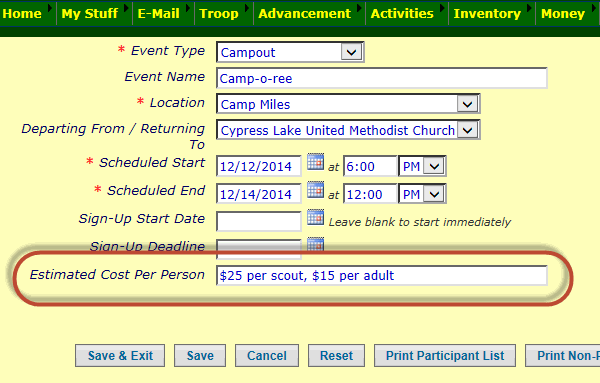 If you have any questions or suggestions about TroopWebHost, please contact us at info@TroopWebHost.com.
When you do, please include your troop number and city in your message so we'll know exactly who you are.
Thank you for your support!
John Corning
TroopWebHost