Fundraiser On-line Sales
Our fundraising subsystem was designed with the assumption that scouts would be driving the sales process. That is why our ScoutSales.org site requires a Personal URL that identifies the scout who will receive credit for the sale. The idea was the scouts would promote their Personal URL to friends and family, whose purchases would be attributed to this scout.
Unfortunately, this makes it difficult for troops to promote fundraiser sales from the troop website, or on promotional materials put out by the troop as a whole.
In response, we've added a Troop Sales URL that can be used to purchase merchandise on-line directly from the troop. This URL can be viewed from the Campaign Details tab of the Sales Campaigns page, as shown below.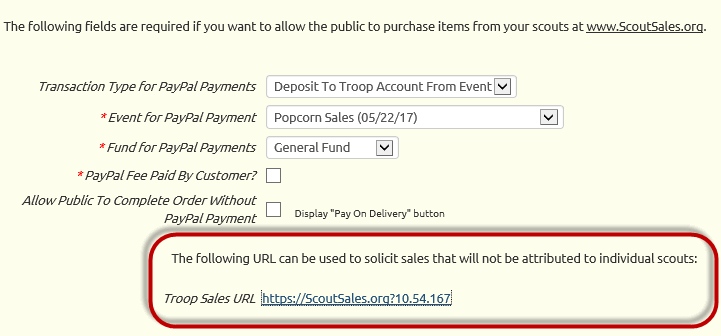 This information will only be displayed for public sales campaigns with the PayPal payment option configured.
This does not replace the Personal URLs that are generated for each scout; the Personal URLs are still available. This just gives you another way to promote on-line sales.