Eagle Palms
January was a record breaking month for TroopWebHost!

Before we tell you about our latest enhancements, we'd like to thank all of the troops who subscribed in the past month.

Troop 11 of Martin, Tennessee
Troop 50 of Snow Shoe, Pennsylvania
Troop 68 of Poynette, Wisconsin
Troop 69 of Burr Ridge, Illinois
Troop 70 of Seattle, Washington
Troop 80 of Sterling Heights, Michigan
Troop 99 of Litchfield Park, Arizona
Troop 205 of Apple Valley, Minnesota
Troop 322 of Eureka, Missouri
Troop 356 of Holly Springs, North Carolina
Troop 383 of Bryan, Texas
Troop 416 of Saline, Michigan
Troop 428 of Lenexa, Kansas
Troop 444 of Pleasantville, Ohio

Troop 444 of Marietta, Georgia
Troop 451 of Lewisville, Texas
Troop 512 of Woodridge, Illinois
Troop 513 of Meridian, Idaho
Troop 532 of Helena, Alabama
Troop 541 of Haines City, Florida
Troop 552 of Lake Butler, Florida
Troop 567 of Las Vegas, Nevada
Troop 733 of Carmel, Indiana
Troop 777 of Honolulu, Hawaii
Troop 1506 of Tracyton, Washington
Troop 2013 of Beaverton, Oregon
Crew 2085 of Olathe, Kansas
Troop 7033 of Flagstaff, Arizona
Please contact us at info@TroopWebHost.com with your questions and suggestions.
When you do, please mention your troop number and city in your message so we'll know exactly who you are.
Navigation Between Advancement Pages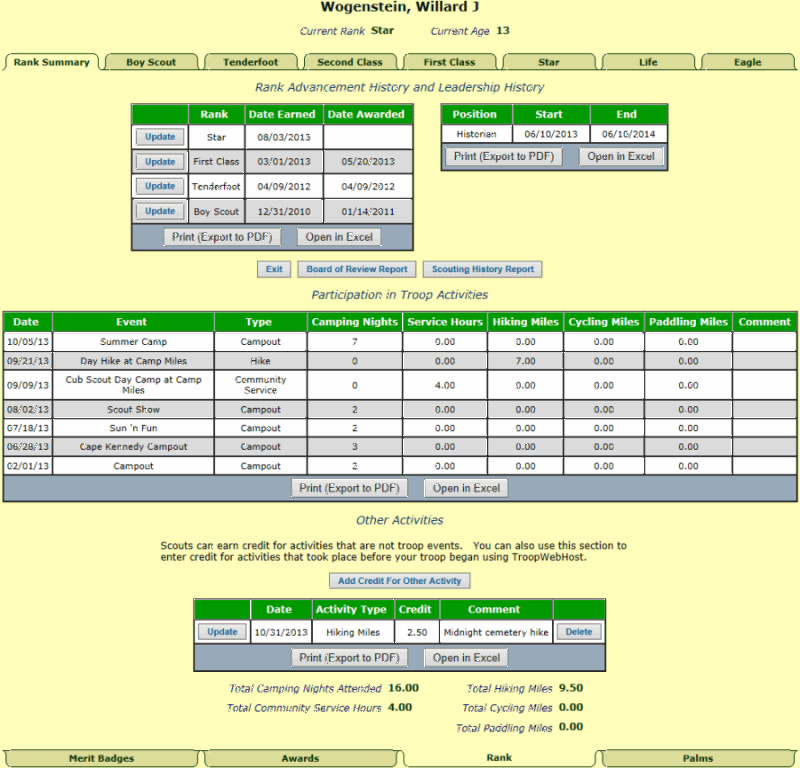 As shown above, we've added tabs at the bottom of all pages that can be accessed from the Individual Advancement page. These tabs allow you to view merit badges, awards, and rank advancement information for the same scout.
Just click on the tab to go to the corresponding page.
Rank Advancement Now Includes Eagle Palms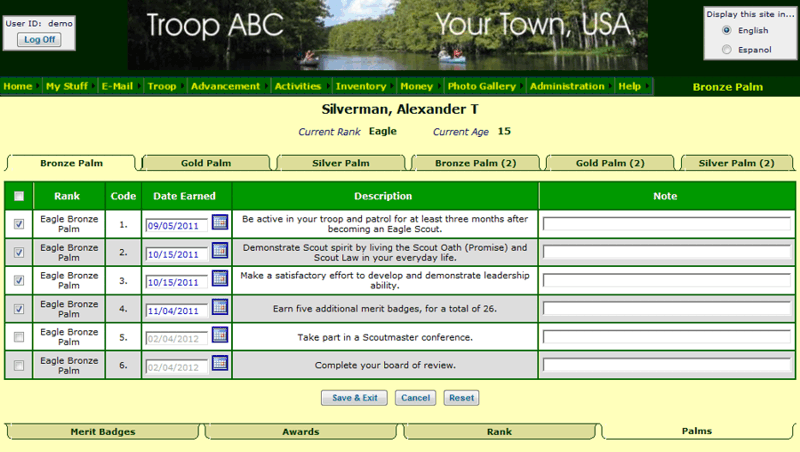 Click the Palms tab at the bottom of any of these pages to enter Eagle Palm advancements.
The tabs across the top of this page will display the requirements for the first six Eagle Palms, starting with the first Bronze Palm.
Click on the checkbox next to each requirement this scout has earned. Once the checkbox is checked, the date field will open up to allow you to enter the date it was earned.
You can find more information about this new page in our User Guide.
Thank you for your support!
John Corning
TroopWebHost