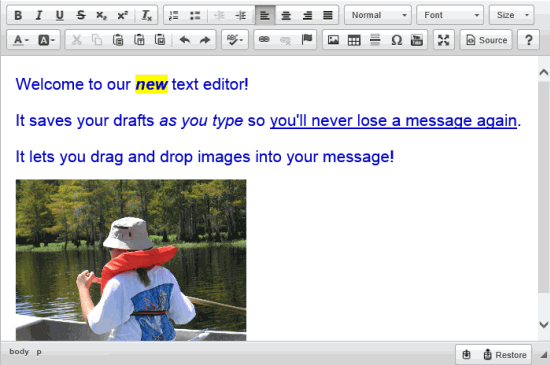 This month we upgraded the text editor that you use to compose e-mail messages and post notes to a forum. The new editor has a backup/restore feature that lets you recover lost messages. It allows you to drag and drop images into your message. It has a full screen mode and an HTML edit mode.
The Automated Electronic Newsletter now has links to upcoming events.
Boy Scouts can now see who is already signed up for shifts when they go to sign up.
Click here for more information!
COMING NEXT MONTH: New Boy Scout rank requirements for 2016!
Scouts who have already started a rank with the old requirements will be grandfathered in. Scouts who are just beginning a rank will default to the new requirements.
WE WELCOME OUR
RECENT SUBSCRIBERS:
Pack 1650 of Washington, DC
Troop 1650 of Washington, DC
Troop 343 of Indianapolis, IN
Troop 127 of Lapeer, MI
Troop 290 of Ypsilanti, MI
Pack 172 of Taylors Falls, MN
Girl Scout Service Unit 485
of Kasson, MN
Troop 57 of Thief River Falls, MN
Pack 74 of Republic, MO
Troop 10309 of Red Hook, NY
Troop 3173 of Apex, NC
Pack 41 of Columbus, OH
Troop 495 of Linwood, PA
Troop 361 of Sioux Falls, SD
Pack 404 of Pearland, TX
Troop 275 of Burleson, TX
Troop 342 of Chandler, TX
Troop 512 of Midlothian,, TX
Troop 1180 of The Woodlands, TX
Pack 2819 of Chester, VA
Troop 358 of Vancouver, WA
Troop 634 of Waupaca, WI
Troop 1113 of Green Bay, WI