Larger Images & ScoutNet For Cubs
You can now upload any size banner image to display on your home page.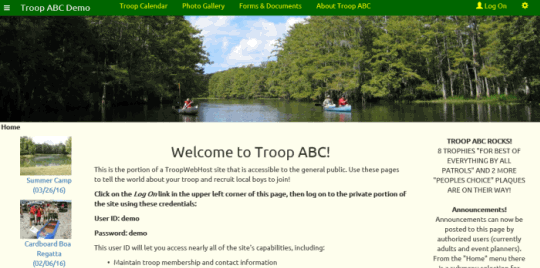 We also gave you the option of uploading larger images to your photo gallery.
Cub Scout packs can now create a ScoutNet-compatible Advancement file.
TroopWebHost users can now copy last year's sales campaign to this year.
WE WELCOME OUR
RECENT SUBSCRIBERS:
Troop 69 of Vogelweh, Germany
Troop 10 of Reseda, CA
Troop 55 of Harwinton, CT
Pack 279 of Peachtree City, GA
Pack 138 of Spencer, MA
Troop 232 of Lino Lakes, MN
Troop 513 of Coon Rapids, MN
Troop 104 of Manchester, NH
Troop 63 of Greenwich Township, NJ
Pack 590 of Massapequa, NY
Troop 3427 of SEAFORD, NY
Pack 3019 of Middletown, OH
Troop 412 of Grove City, OH
Troop 300 of Yukon, OK
Troop 457 of New Stanton, PA
Troop 277 of Rock Hill, SC
Troop 312 of Irmo, SC
Pack 1332 of Spring, TX
Troop 2916 of Allen, TX
Crew 14 of Hurst, TX
Troop 65 of Denton, TX
Troop 485 of San Antonio, TX
Troop 889 of The Woodlands, TX
Troop 1772 of The Woodlands, TX
Troop 1995 of Centreville, VA
Crew 14 of Vancouver, WA
Troop 20 of Delafield, WI
Troop 880 of Cascade, WI