If you have any questions or suggestions about TroopWebHost, please contact us at info@TroopWebHost.com.
When you do, please include your troop number and city in your message so we'll know exactly who you are.
User IDs and Passwords
We now automatically generate a User ID and password every time you add a scout or adult, regardless of how you add them:
New Scout Registration
Then New Scout Registration page now allows you to add both parents and link them to the scout.
And for each parent, you can now copy the address information from the address you entered for the scout, just by clicking on the Address same as scout checkbox, shown below.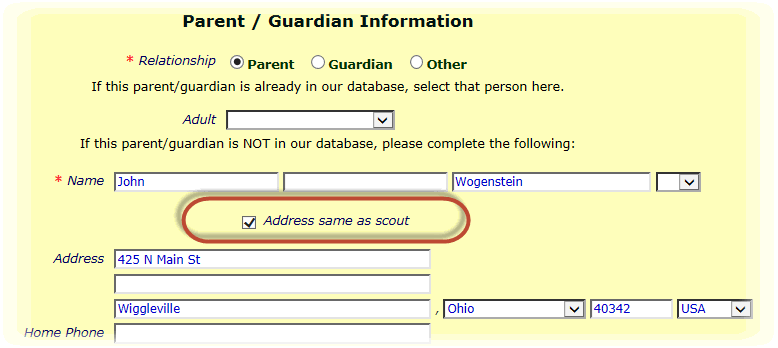 Upload BSA™ Training History
The BSA's MyScouting website has a Unit Training Detail Report that can be downloaded as a CSV file.
This file contains a complete training history for all of your troop's adult leaders.
You can upload this information into your TroopWebHost database using the new Upload Training From MyScouting function.
This function includes an option to add classes to your Training Courses list that weren't already there.
More Update All Pages
The Update All functions on the Troop menu give you a quick way to enter the same information on everyone's membership records.
We added these new options to this menu:
Update All...Scout Crew Assignments
Update All...Scout BSA ID
Update All...Active Adults BSA ID
Update All...Active Adults Medical Form Dates
Please let us know if you have any questions or suggestions about these or any other features.
Thank you for your support!
John Corning
TroopWebHost